Everyone knows that the special-shaped shock absorber has a buffering effect in the car. It reduces the degree of undulations of the car and improves the comfort of the driver and passengers. It is not easy to make people feel the strong bumps in the car. The role of a small part.
It can be said that the necessity of special-shaped shock absorbers in automobiles is not inferior to tires. The special-shaped shock absorber is so important, it can be said that its installation quality will immediately affect the balance of the car when driving and the life of the car components. In order to better avoid a series of problems in the car due to installation problems, the installation process Attention should be paid to some matters.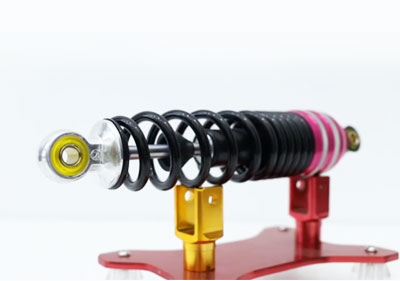 1. When installing a special-shaped motorcycle shock absorber, you must pay attention to its operating temperature and environment. Try to use it in the indoor temperature range of 10℃-35℃, and the air humidity does not exceed 80% of the operating temperature. It must also be used on a stable base or workbench, in an environment without corrosive media and vibration, and the fluctuation range of the power supply voltage should not exceed ±10% of the rated voltage. The power supply of the testing machine should have reliable grounding and frequency The fluctuation cannot exceed 2% of the rated frequency.
2. Always pay attention to whether the special-shaped shock absorber has common faults of oil leakage, because if oil leakage occurs, it will cause great inconvenience and damage, so be sure to make preparations. Routinely inspect the connecting pins, connecting rods, connecting holes, rubber bushings, etc. for damage, desoldering, cracking or falling off. It is also necessary to check whether the clearance between the piston and the cylinder is too large, whether the cylinder is bruised, whether the sealing of the gate valve is good, whether the disc and the valve seat are tight, and whether the extension spring is too soft or broken , According to the condition, use the method of sharpening or repairing. That way you can prevent it in the first place. Therefore, it is very important to pay attention to the matters that must be paid attention to when installing the special-shaped shock absorber. In fact, try to let professional maintenance personnel install it. If you install it yourself, it is very risky.