As our country pays more and more attention to environmental issues, the production of many enterprises is also changing with environmental issues. For example, shock absorbers and vibration isolators are quickly Extensively penetrate into major industries and enterprises, especially various national ecological demonstration bases. Enclosed shock absorber This product has a closed structure with a metal shell, which can improve the strength and rigidity in the horizontal direction, and protect the damping device, so that the damping device will not be separated due to the separation of the metal bushing and rubber Anti-vibration frame.
It can be used on instruments, meters, electrical equipment or mechanical parts installed on a horizontal, inclined and vertical foundation, so that it is not affected by other mechanical vibrations and has a good buffering effect. The difference between the JF type and the JF-A type is that the JF-A type vibration damping body uses oil-resistant rubber, and the JF-A type has 4 types of large-load expansion models. It can be placed directly under the equipment during installation. If the interference force of the power equipment is large, adjust the center of gravity first, and fix the base fixing hole on the foundation with bolts. This product is an ideal product for active vibration isolation. Can be customized according to the different needs of customers. The advantage is that the spring is designed with a low frequency value and is sprayed with plastic, which has good weather resistance and good shockproof effect. The top and bottom of this product adopt non-slip wear-resistant rubber and fixing bolts, which greatly improves the safety performance.
The metal mesh shock absorber is all metal composed of cylindrical spiral springs, stainless steel mesh posts, mesh pads and other metal elements. The metal mesh shock absorber has strong weather resistance and wide applicability. It is a newly developed one to isolate low-frequency interference from various precision instruments, meter radios and other equipment. The shock absorber products are all made of stainless steel and can be used in harsh environments. The vibration damping body is made of metal rubber, which has the advantages of wide load-bearing range, load-bearing capacity in any direction, large damping, etc., and is especially suitable for use under hoisting conditions in the field of aviation and combat vehicles. It should be arranged symmetrically according to the central axis of the pump unit. Its arrangement can be arranged clockwise or counterclockwise, shock absorbers with different installation sizes and special requirements.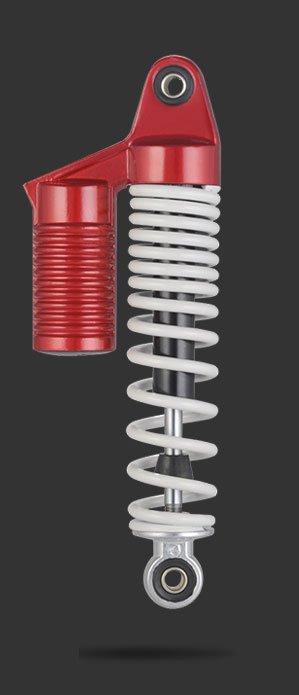 Zhejiang Yongmei Technology Co., Ltd. is famous China Motorcycle Shock Absorption Damping Manufacturers and Motorcycle Damping Adjustable Rear Left Right Shock Absorbers Suppliers, locates in Huangyan District, Taizhou City, the central part of Zhejiang Province, and the birthplace of the national private economy. The company is a high-tech company integrating research, development, design, manufacture, sales and service of shock absorbers used for yachts, water sports equipment, motorcycles, ATVs and electric vehicles. The company regards continuous innovation as its core competitiveness and regards product quality as the life of the company, all management work according to the ISO9001-2015 standard, we offer kinds of high-quality wholesale Motorcycle Damping Adjustable Rear Left Right Shock Absorbers for our customers. Now it has perfect production technology facilities, strong technical development strength and advanced technical design methods. The company has won the honors of Intellectual Property Consultant Unit, City-level High-tech Research Center, Taizhou High-tech Enterprise, Zhejiang Science and Technology SMEs, Quality Service Credit AAA Unit, National Consumer Satisfaction Brands, Product Service Credit AAA Unit. The company's Qili brand shock absorber products have more than 200 national patents which were awarded China Famous Brand and China Famous Brand.